Have you heard about Bahai Garden and Shrine in Haifa, Israel? Well, if not then I will give you some information about this famous and amazing garden in Haifa. Actually, I haven't been here but I will make sure to visit this garden before I leave the country.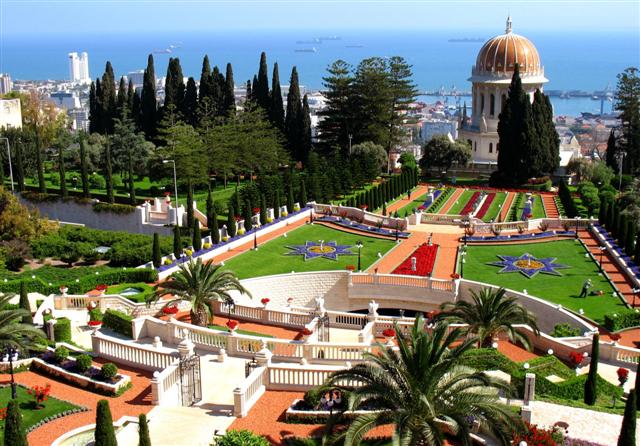 Front Area of Bahai Garden
Nowadays, Haifa City of Israel is famous of anything because of Bahai Garden and Shrine on the slope of Mt. Carmel. Almost half of all tourist of Haifa go there just to see the garden, now called a World of Heritage Site. As to speak , tour are free but you need to call in advance to join of the groups that either up or down the mountain.
Explore the Bahai Garden Terraces
These garden compromise a staircase of nineteen terraces extending all the way to Mt. Carmel. The golden domed Shrine of the Bab (meaning the "door") the resting place of the Prophet-Herald of the Bahai Faith, stands on the central terrace, looking across they cay towards Akko. While different parts of the garden offer a variety experiences , the speak in a common languages of graveled paths, hedges and flowers beds groomed and nurtures by dedicated gardeners. When you walk through the garden seems like you are walking through the garden of Eden. The gardens frame panoramic views of the city, the Galilee Hills and the Mediterranean Sea.
Going up to Bahai Shrine with over 700 steps